I never understood nutrition and didn't become active until I was an adult. I remember putting myself on my first diet when I was 13 and, for the next 40 years, restricting my eating in different ways.
In college, I started running and playing tennis. Then, in law school, I began going to the gym. I liked weights and played around with cardio, but it wasn't consistent. I also avoided different types of lower-body lifts because I was worried about hurting my back.
It wasn't until my 61st birthday that I set a clear goal for my workouts, and things started to click.
One inspiring photo kickstarted my transformation. I was on Instagram and a photo of Joan MacDonald appeared on my feed. She was standing sideways, wearing a beautiful pink outfit, and her triceps were popping out. The caption talked about her experience with The Wonder Women (her daughter Michelle's coaching platform!) and how she started her fitness journey at 70. I remember thinking, holy crap, she's almost a decade older than you—you have no excuse.
More From Women's Health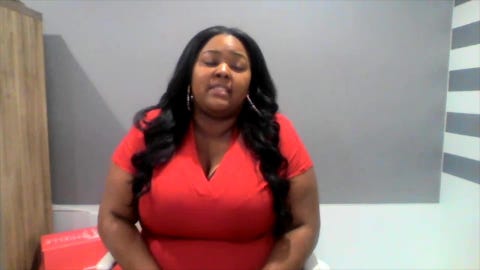 I immediately went to The Wonder Women website. I looked for the oldest coach they had and sent an email.
I started squatting again after 40 years of avoiding it to improve my lower-body strength.
Strength training was always on my radar, but I never pushed myself to actually progress. I always did the same exercises with the same amount of weight. I was also told to avoid squats, deadlifts, and hip thrusts because they were bad for your back. As a result, I hadn't squatted since my 20s and my glutes were so weak my knees frequently buckled.
It took me two years to nail a squat with proper form. I sent videos to my coach and concentrated on building strength and activating the right muscles. My patience and hard work paid off when it finally clicked. It wasn't easy, but it was a huge accomplishment. I was proud. At the beginning of the year, I was struggling to squat 75 pounds, and today, I conquered four sets of six squats with 127 pounds (a new PR!).
From there, I tackled the hip thrust. I had never even heard of hip thrusts before training with The Wonder Women but, again, I focused on form and steadily increasing weight. Today, I set a new PR and nailed four sets of six hip thrusts at 300 pounds.
Now, I weight train five days a week. I do two days of upper body, two days of lower body, and a lower- and upper-body split for the fifth day. I prioritize hypertrophy (increasing muscle size) and my goal is to always get stronger.
After underfeeding myself for years, I finally learned to count macros and fuel my body properly.
To be honest, I never ate enough and neglected protein. I underfed my body for 40 years. But with the help of my new Wonder Women coach, I learned proper nutrition and shifted my mindset to treat food as fuel.
Instead of thinking, "how little can I eat to survive," my new approach was, "how much can I eat to get stronger and healthier." This was a game changer.
For all those years, I lived on 1,000 calories or less, and now, I was eating almost double. Once I fed and nourished my body, I felt better and started to lose excess body fat, particularly in my back and mid-section.
I learned to have fun with cardio and completely forgot my age.
In addition to resistance training, I incorporate cardio five days a week. I love my Peloton. It was one of the best investments I ever made. Jenn Sherman and Cody Rigsby are my go-to instructors. I also love joining one of Matt Wilpers' Power Zone classes for aerobic training.
Another cardio secret weapon? My run group. I live in Hawaii and every Sunday a group of us run Kaanapali in Maui, which never gets old. Most of the people I run with are my kids' age, but it's great. While we're running, I forget how old I am, have fun with it, and get my heart pumping.
Once I found a bodybuilding coach and trained to compete, I discovered my real potential and unlocked new strength.
Bodybuilding was always intriguing to me. I considered doing a show in my 30s and 40s, but I worked a lot and didn't think I had it in me. So, after a year and a half of training with The Wonder Women, and getting back on track with my nutrition and workouts, I decided to reach out to Jean-Jacques Barrett (Michelle MacDonald's husband), who runs the Tulum Strength Club.
As a professional bodybuilder and coach, he had never trained anyone in their 60s, but we were both up for the challenge. We prepped for almost a year before the show. In January 2022, I started my first six-month "build," which consists of a calorie surplus, five days of weight training, five days of 20-minute cardio, and at least 8,000 steps per day. My favorite exercises during the "build phase" are powerlifting moves like squats, deadlifts, and hip thrusts, but I also love a bench press. It's especially rewarding to see my progress because I recently leveled-up my bench press from dumbbells to a barbell.
In June, I started my "cut" and reduced my overall calorie intake to shed body fat and reveal the muscles I'd worked hard to grow in the "build" phase. In November 2022, I competed in my first bodybuilding show.
I was the oldest competitor in every category, but my goal was to feel comfortable and like I belonged up there with the other women. Mission accomplished: I felt strong, powerful, and proud. It was one of the best experiences I've ever had. As an added bonus, the competition opened my eyes to my potential. I thought, if I can do this, what else can I do?
These three things were key to my strength transformation.
1. Connecting with a likeminded community provided new friends and support for my healthy lifestyle.
Making new friends is hard enough when you're younger, and I never expected to make new best friends in my 60s. That's exactly what I did going through this process. I've connected with an incredible virtual group via The Wonder Women, that embraces and celebrates exercise and a healthy lifestyle. We meet on monthly Zoom calls to talk about training, nutrition, and life, and having a community of strong women who want to support each other is pretty incredible. I also share my journey on Instagram @silverandstrong.
2. I always start a workout, no matter how motivated, or unmotivated, I feel.
I finally learned to be honest with myself and set high standards. Do I always feel like working out? No. But I made a promise to myself to always start a workout. Sometimes it ends up being a great session, and sometimes it doesn't. Either way, that's okay.
3. I learned to prioritize caring for myself through my workouts.
After all, as cliche as it may sound, you have to take care of yourself before you can take care of others. For me, that meant blocking out time for my workout and fueling my body with good, nutritious food. It took me years to realize I deserved that self-care. You deserve it, too. You're never too old and it's not too late to start.
Self-care is not selfish, either. I spent a long time yo-yo dieting, doing the same thing over and over, expecting different results. Looking back, I don't know why I didn't figure it out sooner. I'm just grateful that I didn't give up.
Truly caring for myself taught me it's possible to live your very best life at any age. I'm 64 and only getting stronger. My outside finally matches my inside.